You desire to learn about the WordPress repeater fields, you wonder what features it has and how it works on WPForms. Then this is the article for you.
With main headings as follows:
What are Repeater Fields?
It's an add-on, that allows you to create forms with repeating sections. When you want users to submit forms with a lot of information, this plugin is perfect for you.
For example, suppose you want to gather information about all the family members of your students who will be attending a graduation ceremony and you do not know how many family members are likely to attend. That is why you may need a Repeater Field. With its help, you can create a repeatable block and include as many fields there as you need. The user will be able to add several blocks according to the necessary quantity.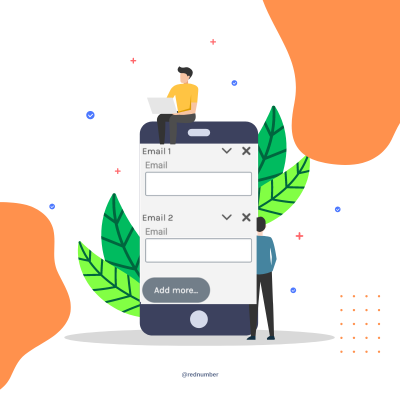 What are the repeater field features in fact?
WPForms is a popular WordPress plugin for creating and managing contact forms, but it does not have a native repeater field functionality.
However, you can achieve similar functionality in WPForms by using third-party add-ons or extensions. There are several plugins available in the WordPress ecosystem that extend WPForms 's capabilities and provide repeater field functionality. Here are some features you can expect from these repeater field add-ons: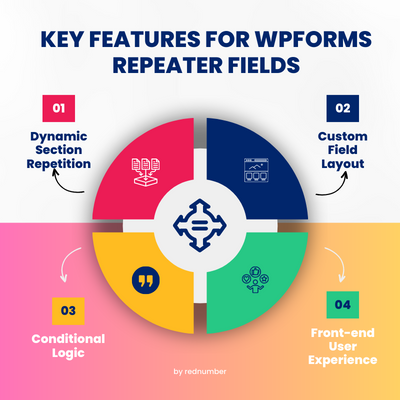 Dynamic Section Repetition: Repeater fields allow you to create sections within your form that can be repeated dynamically. This means that users can add or remove multiple instances of the same section as needed, providing a more flexible form experience.
Custom Field Layout: Each repeated section can contain multiple form fields, allowing you to create complex data structures or collect multiple sets of related information. You can include various types of form fields within each repeated group, including text fields, checkboxes, radio buttons, dropdowns, and more. The add-ons typically allow you to customize the layout and arrangement of the fields within the repeated group.
Conditional Logic: Repeater fields seamlessly integrate with WPForms' conditional logic system. You can set conditional rules based on the values entered in the repeater fields, allowing you to show or hide specific sections or fields dynamically.
Front-end User Experience: Repeater fields provide a user-friendly interface on the front-end of your forms. Users can easily add or remove repetitions of the sections with the click of a button, simplifying the process of entering and managing multiple sets of data.
How does the Repeater Field work?
By utilizing a repeater field, users can conveniently add, remove, and manage multiple sets of fields within a single form. This feature enhances form flexibility and simplifies data entry for users.
Here's what they look like in WPForms: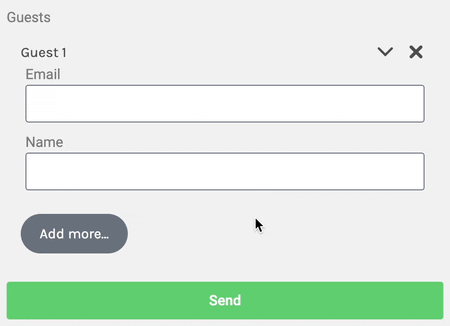 When the user wants to add more details, they can simply click on the ADD button and submit the form. Besides, they can also remove the repeater fields using the X button if they don't want to add the data.
Suggestions for you
Explore this link now to experience and purchase this amazing product! When you click on the link, you will be directed to the online store where you can discover more about the product and easily make your purchase.
Link to refer: https://1.envato.market/rQz7P5
---
That's it! We hope this article helped you learn more about Create Repeater Fields for your WPForms.
You can refer to some documents related to The Repeater Field WPForms: