WPForms Pipedrive CRM Integration
WPForms Pipedrive CRM Integration is a Pipedrive CRM integration plugin for WordPress that makes it really simple to send your  forms directly to your Pipedrive CRM account. After the integration, submitted the form are automatically added as lead, deal, person & organization, activity or deal & activity to the specified account in Pipedrive CRM, together with additional data.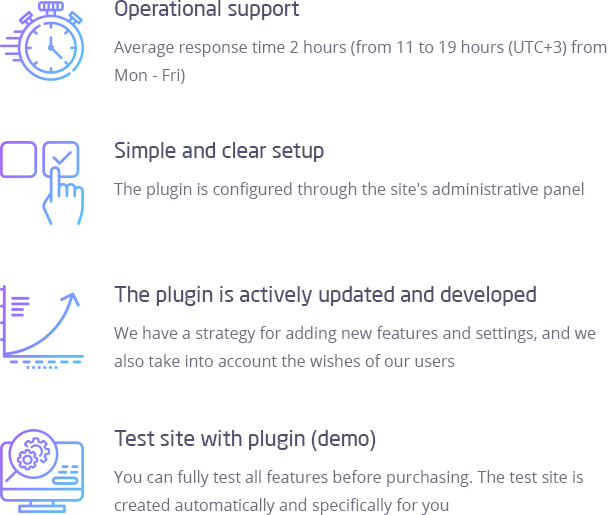 FEATURES:
Integrate your `WPForms` forms with Pipedrive CRM.
Integrate unlimited `WPForms` forms.
You can choice that your want to generate – lead, deal, person & organization, activity or deal & activity.
When creating a lead/deal/activity, a person and an organization are created (or used existing if there is) and connected to it.
Fields are loaded from the CRM (including custom fields).
You can set up each form personally, specify which information your want to get.
Sending in two modes: immediately when submitting the form or with a slight delay through `WP Cron`.
Supports getting `utm` params from the `URL`.
Supports for sending `GA Client ID`.
Supports for sending `roistat_visit`.
Supports for sending `_ym_uid`.
Multiple pipeline support.
Related
Related plugins
This feature allows users to dynamically add multiple sets of fields to the form
$25.00/ 1 Website
What's included
Lifetime licenses
Unlimited updates
1-year support
30-day money-back guarantee
Details and compatibility
Version: 3.2.7
Tested up to: 6.4.1
Last updated: 5 days ago
Category: WPforms
Requirements
WordPress Version 3.9 or newer (installed)
PHP Version 5.2 or newer
Support
30-day money-back guarantee
We're so confident in my team's offering that we offer a 30-day money-back guarantee if you are unhappy with our products or service.
Related
Only logged in customers who have purchased this product may leave a review.